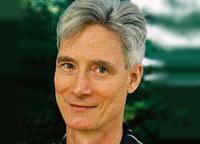 Yoga Therapy for Neuromuscular Diseases: Increase Your Mobility, Stability, and Flexibility

with Madhavan, RYT 500, C-IAYT

Tuesday, September 25 • 6:30–8:30 p.m.

A specially designed Yoga Therapy practice benefits patients with Parkinson's disease, MS, and other neuromuscular conditions by helping with mobility, balance, strength, flexibility, posture, concentration, speech, mood, and relaxation. In this workshop you will learn standing and floor Yoga poses and practices and discover modifications that will make them accessible. The practices will incorporate awareness of the breath to improve focus, create calm, and increase energy and include breath work, chanting, and deep relaxation. Open to caregivers. Includes Yoga: All Levels

$27
Madhavan, RYT 500, C-IAYT teaches Hatha Yoga and meditation and practices therapeutic Yoga in New York. He holds a B.A. in psychology and an M.A. in anthropology and Southeast Asian studies. He is an IYI Yoga teacher, RYT 500, and a certified astrologer.
Also with Madhavan, RYT 500, C-IAYT: