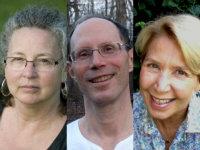 Monday, June 18 • 6:30–9:00 p.m.
Chronic pain is often treated with medication or simply overlooked— either path potentially complicating further an often difficult and isolating condition. In this class we'll offer a multifaceted, holistic, integrative approach that will give participants tools and understanding for effective long-term pain management for themselves, their loved ones, their clients, or their patients. We'll look at the neurophysiology of chronic pain and its psychosocial impact. We'll explore complementary pain management practices (breath awareness, restorative and gentle asana or poses, meditation, deep relaxation, and other de-stressing techniques). And we'll also touch on current medical treatments (medication, surgery, medical marijuana) with an eye toward empowering students, caregivers, and providers in creating informed, effective approaches to pain management. No Yoga experience necessary. Includes Yoga: New Beginners and All Levels
$35
Nancy O'Brien, Peter Karow, and Livvie Mann have taught for many years in the Yoga for Arthritis and Chronic Pain program at Integral Yoga. They are 500-hour Yoga teachers registered through Yoga Alliance, and Peter and Nancy are Yoga therapists certified through the International Association of Yoga Therapy.