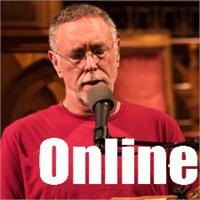 Saturday–Sunday, May 29–30 • 2:00–9:30 p.m.
Join world-renowned musician Krishna Das in an online workshop filled with kirtan (chanting of sacred sounds). In this special concert and kirtan workshop, you will have the opportunity to immerse yourself in chanting holy mantras with the Grammy-nominated "rockstar of Yoga."
Krishna Das takes time to share insights that he has gained on the spiritual path and to tell stories of his experiences in India. Join us each afternoon from 2–4 pm ET for interactive discussions with Krishna Das, including questions and answers from participants, to elevate your mind, relax your body, and open your heart!
In the evening, experience a live concert with Krishna Das from 8–9:30 pm on Saturday and Sunday, where he will guide you in ancient chants, making the practice of chanting Divine mantras exciting and simple. A personable, down-to-earth presenter, he's gifted at dispelling any beginner's hesitation or fear and guiding everyone into lively, responsive chanting.
Participants are also invited to join inspirational live morning lectures with senior Integral Yoga teachers.
Live sessions with Krishna Das on Saturday and Sunday at 2–4 pm and 8–9:30 pm ET, as well as live lectures with senior Integral Yoga teachers on Saturday and Sunday mornings.
You will have access to the video recordings for 8 weeks after the program ends, until July 25.
In addition, you will have access to the Ashram's Live Hatha Yoga classes at 5 pm ET, recorded Ashram meditations, and inspiring talks with Sri Swami Satchidananda. You will also have access to an online social community to connect and communicate with other participants about this course.
Continuing Education (CE) Opportunities
Testimonials
KD is the perfect combination of compassion, insight, humor and truth-telling.
— Lalita Lynn Taylor
KD is a master at sharing big things in a simple way and being kind and patient with all our questions. Of course, the chanting was beautiful, sacred, and so healing, especially right now.
— Elizabeth Wasserman
My heart is overflowing with love. My deepest gratitude. — Katherine Kasey Conklin The whole weekend — the talks, the sessions with KD, the life yoga practices, all of it got me back in touch with my practice that had fallen away with the closing of my yoga studio. KD knows what he is talking about! It was my first experience with him (outside of recorded music) and it was neat to just hang out with him and listen to his stories and explanations. This online retreat helped me reconnect with my personal practice and expand it at home.
— Melissa Amory
KD is a master storyteller. He is authentic and speaks from his heart and tells it like it is. He is transmitting the teachings of the ancient masters in a simple, easy to understand way.
— Kate Doran
KD is my favorite. His kirtans are fresh and contemporary, but they still have a traditional flavor. It makes me happy to listen to him, and to sing along. Krishna Das has a fresh, contemporary take on Kirtan that retains a warm, traditional flavor. He is also a down to earth and accessible teacher. It was a treat to get to ask him questions, and to listen to his answers to other people's questions. It is always a treat to hear him play and sing.
— Maria Puente-Duany
$140
Krishna Das has been called Yoga's "rock star," layering traditional kirtan with instantly accessible melodies and modern instrumentation. With a remarkably soulful voice that touches the deepest chord in even the most casual listener, Krishna Das—known to friends, family, and fans simply as KD—has taken the call-and-response chanting out of Yoga centers and into concert halls, becoming a worldwide icon and the best-selling Western chant artist of all time. His album, Live Ananda, (released January 2012) was nominated for a Grammy in the Best New Age album category.
KD spent the late 60's traveling across the country as a student of Ram Dass, and in August 1970, he finally made the journey to India, which led him to Ram Dass' own beloved guru, Neem Karoli Baba, known to most as Maharaj-ji.
Given the name Krishna Das, KD began to chant as part of following the path of Bhakti Yoga—the Yoga of devotion.