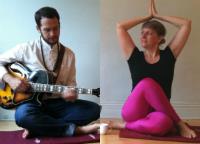 Sunday, April 30 • 11:30 a.m.–1:30 p.m.
Come journey through the senses in a class designed to relax and revive you completely. Lakshmi's Yoga sequence unfolds to Matt's modern approach to guitar, interweaving jazz, pop, folk, looping, and swells, all blended together in an ethereal electric sound that will wash over you in soothing waves. During the class a large pot of herbal tea simmers, absorbing all the positive energy generated in the room through the Yoga flow and sound vibrations. The workshop ends with our sitting together sipping tea as a meditation. Includes Yoga: All Levels
$27
Lakshmi Pidel, with years of experience in coordinating and teaching programs for children, is certified in Beginner and Intermediate Integral Yoga. She has also studied Yoga for the Special Child with Sonia Sumar.
Matt Tavisha Fass, RYT 200, is a certified Level I teacher who currently teaches at Integral Yoga New York and at Still Mind in White Plains. After coming across a copy of the Yoga Sutras of Patanjali, he discovered the benefits that a Yogic approach to life can bring. Matt applies those principles to his work in the hospitality industry and to his music.