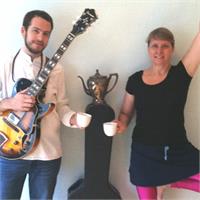 Yoga, Music, and Tea: An Infusion of Good Vibrations

with Lakshmi Pidel and Mattavi

Friday, October 4 • 7:00–9:00 p.m.

Come journey through the senses in a class designed to relax and revive you completely. Lakshmi's Yoga sequencing unfolds alongside Mattavi's guitar, which blends different musical styles into a sound track that responds and complements Lakshmi's class. During the class a large pot of herbal tea simmers, absorbing all the positive energy generated in the room through the Yoga flow and sound vibrations. The workshop ends with our sitting together sipping tea as a meditation.

Includes Yoga: All Levels

$30
Lakshmi (also known as Lynne) Pidel became a Yoga teacher in India through Integral Yoga Institute. Her career as a modern and ballet dancer and teacher started when she was 15. In her dance practice, she used Yoga as a means of warm-up and self-care. Lakshmi is a certified 500-hour Hatha Yoga teacher for all levels, including Prenatal and Postpartum Yoga, Yoga for Children and Special-Needs Children, and Yoga for Labor and Delivery, as well as meditation. She is also a Level II Reiki practitioner. She empowers her students to figure out how to feel better, and she believes that Yoga can be practiced at any age or level.
Mattavi, RYT 200, is a certified Level I teacher who currently teaches at Integral Yoga New York and at Still Mind in White Plains. After coming across a copy of the Yoga Sutras of Patanjali, he discovered the benefits that a Yogic approach to life can bring. Matt applies those principles to his work in the hospitality industry and to his music.