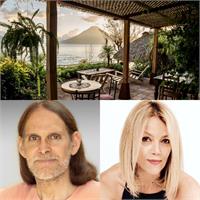 October 6–12 • Lake Atitlan, Guatemala
Join Swami Asokananda and Kālyana for this special Yoga vacation. Nourish your soul at the exclusive Villa Sumaya located in Santa Cruz La Laguna in the heart of the Mayan highlands on the shores of Lake Atitlán.
Dive deeply into the Integral Yoga practice and the Kalyana Ka healthy lifestyle. Enjoy a daily yoga practice overlooking the beauties of the lake. Listen to presentations by Swami Asokananda and Kālyana that emphasize the ultimate goal of yoga—the quietude of the mind. Return home refreshed and inspired with the tools to keep this positive momentum in motion.
Six nights accommodation in the charming Villa Sumaya Wellness Center

Three abundant vegetarian meals per day

Integral Hatha Yoga classes each day

Morning meditation each day

Deep guided relaxation every evening

Workshop: How to Create Your Daily Healthy Routine

Presentations by Swami Asokananda and Kālyana

Ceremony with a Mayan Shaman

Swami Asokananda, a monk since 1973, is one of Integral Yoga's foremost teachers, known for his warmth, intelligence, and good humor. His teaching comes out of his own practice and experience, since he has absorbed the wisdom of his guru, Sri Swami Satchidananda, since the age of 19. While he enjoys sharing the practical wisdom of the Yogic philosophy (especially that of the great Indian scripture the Bhagavad Gita), he also loves his practice of Hatha Yoga and is one of our primary instructors for Intermediate and Advanced Hatha Yoga Teacher Training. In the past, he has served as the president of Satchidananda Ashram–Yogaville® and Integral Yoga® International; he is currently the President of the New York Integral Yoga Institute.
Kālyana is her Sanskrit name, Karine is her French one. Born in France now based in New York; she was introduced to yoga in India in 2003, and has been practicing since then. She graduated from Integral Yoga Institute, in NYC, Asanas and Pranayama : Level I 200-Hour; Asanas and Pranayama : Intermediate Level II 176-Hour, Gentle and Chair training 100-Hour; and Raja Yoga, the philosophy and psychology of yoga 80-Hour.
She is as well a certified kids yoga teacher, graduated from Kidding Around Yoga school.
Kālyana is a passionate, spiritual, and artistic person, also dedicated, and practical.
Her background is rich in travel, fitness, nutrition and creative work, all formative experiences that have helped her teach spiritual well being, wholeness, and healthy living.
Her everyday life embraces yoga, meditation, organic living, and the learning of spiritual teachings. This routine helps her to convey a sense of stability, and mindfulness to students, and others.
As an Integral Yoga Hatha teacher she approaches each class as a complete yoga practice, experiencing chanting, asānas or physical poses, a guided deep relaxation, prānayama or breathing techniques, and a brief meditation.
She created her company Kālyana Ka in 2015 and created Inspired Yoga Travels in 2016 as her passion is to create and lead people around the world. One country; one theme. 'Inspired' stands for creativity; 'Yoga' stands for learning a healthy life style, and Travels/Vacations for discovery and fun, as she believes life is meant to be lived in joy.