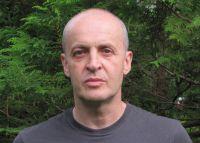 Yoga for Men: Benefit Your Body and Mind

with Sudama

Saturday, April 29 • 3:00–5:00 p.m.

More than twice as many women as men currently practice Yoga, and the majority of Yoga teachers are women. That doesn't mean that Yoga isn't so important for the male body and soul. The popular Integral Yoga teacher Sudama says he sees a need for a man-to-men workshop to bring the physical and spiritual benefits of Yoga to everyone. Let him guide you through a discussion of Yoga for men, a class tailored to both beginner and experienced Yoga practitioners, and a question-and-answer session that will dispel the myth that real men don't do Yoga. Includes Hatha: New Beginners and All Levels




$27
Solomon/Sudama has been practicing Yoga since 1980 and is a certified IYI Level I and Level II teacher. He is a student of Vipassana mediation and incorporates Yoga into a holistic approach to life, health, and fitness. He works as a Unix administrator.