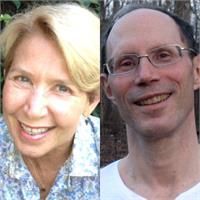 Yoga for Chronic Pain Relief: Five Holistic Tools to Manage Pain

with Livvie Mann and Peter Karow

Sunday, February 6 • 2:00–5:00 p.m.

Chronic pain, one of the most common reasons adults seek medical care, can lead to restriction in mobility, dependence on medication which may not provide adequate relief, anxiety and depression, and reduced quality of life. Studies show a yoga practice which incorporates mind and body can help relieve chronic pain and improve daily function.

In this workshop we'll gain insight on why we experience pain through review of the mechanisms of pain and its connection to the brain. We'll share practices that may help manage pain which include gentle yoga, visualization, meditation, and other complementary practices. We'll close the workshop by applying these practices though guided instruction. Yoga teachers, yoga students, medical professionals, anyone interested in pain management are welcome. All ages, all levels of pain, no yoga experience required. Includes Yoga: All Levels

This is an online program. You'll need to download

Zoom

to attend. Please see your purchase confirmation for the Zoom link.

$45
Livvie Mann and Peter Karow have taught for many years in the Yoga for Arthritis and Chronic Pain program at Integral Yoga. They are 500-hour registered Yoga teachers through Yoga Alliance, and Peter is a certified Yoga therapists through the International Association of Yoga Therapy.