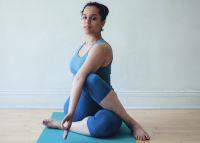 Yoga for Anxiety: Discover Wonderful Tools

with Jennifer Gibson

Saturday, July 20 • 11:00 a.m.–1:00 p.m.

Anxiety can leave you feeling out of control, ungrounded, and overwhelmed with everyday life. Come discover how to apply the wonderful tools of Yoga to relieve anxiety and have a more peaceful existence. This workshop will include breathing practices, Restorative Yoga postures, guided meditation, writing, affirmation, and deep relaxation. Join in this informative workshop that will leave you with the tools you need to make changes toward a more peaceful balance in life. Includes Yoga: All Levels

$34
Jennifer Gibson, a certified Yoga instructor for the past 12 years, has been challenged with overcoming her own anxiety and, through her exploration of Yoga, has discovered tools for finding a peaceful balance in her everyday life. She is thrilled to share the practices of Yoga to help relieve the anxiety of others.
Also with Jennifer Gibson: