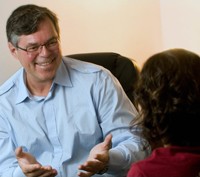 Yoga-Based Cognitive Behavioral Treatment of Anxiety: Learn How to Heal Your Anxiety on Your Own

with Boris Pisman, LMHC

Saturday, November 9 • 10:30 a.m.–3:30 p.m.

This unique and effective program is designed to treat all anxiety disorders, such as OCD, panic attacks, social anxiety, phobias, PTSD, and more, to help you return to a normal life. The workshop includes anxiety and its origins, Yoga's view of a disorder, deep relaxation and breathing training, cognitive therapy exercises, behavioral therapy exercises, meditation, and Yoga psychology. Yoga postures will not be performed.

"I cannot remember being so moved by an instructor."
—Program participant




$95
Boris Pisman, LMHC, is a New York State licensed mental health counselor specializing in the field of anxiety and OCD. He is the author of OCD Relief Now!: use yoga and awareness to deal with obsessions and compulsions as you are actually experiencing them. Boris has more than 20 years experience teaching Yoga.