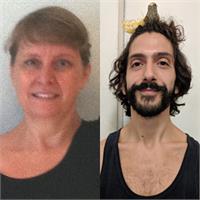 Tuesday, November 19 • 6:30–8:30 p.m.
Lakshmi Pidel and Stelios Saharsha Kefalas This meditative Yoga class, taught by Lakshmi Pidel, is enhanced by ancient Sanskrit chants soulfully sung by Stelios Saharsha Kefalas accompanied by his harmonium. With the chants as a point of focus, the mind quiets so that the body can experience the richness of the poses. This workshop will flow from physical asana to deeper practices, incorporating breathwork, deep relaxation, and meditation. Come experience the level of bliss to which Yoga and harmony can connect you.
Includes Yoga: All Levels
$30
Lakshmi (also known as Lynne) Pidel became a Yoga teacher in India through Integral Yoga Institute. Her career as a modern and ballet dancer and teacher started when she was 15. In her dance practice, she used Yoga as a means of warm-up and self-care. Lakshmi is a certified 500-hour Hatha Yoga teacher for all levels, including Prenatal and Postpartum Yoga, Yoga for Children and Special-Needs Children, and Yoga for Labor and Delivery, as well as meditation. She is also a Level II Reiki practitioner. She empowers her students to figure out how to feel better, and she believes that Yoga can be practiced at any age or level.
Stelios Saharsha Kefalas, RYT, has been studying and practicing Yoga and dance for almost 15 years. He is certified as an Integral Yoga Level I instructor and as a Martha Graham Technique teacher. Stelios is currently teaching Level I at Integral Yoga and teaches Graham in collaboration with the Martha Graham School of Contemporary Dance. He hails from Greece and wishes that all living beings may reach their full potential.