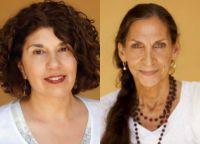 Saturday, July 29 • 10:00–11:30 a.m.
While Chandra leads you in a multilevel Integral Yoga class, Laksmi will sound the gong. Together, they will invoke the timeless Hatha practice of Sri Swami Satchidananda and Grand Gong Master Don Conreaux's universal teachings of the gong to return you to your natural state of health and bliss. Treat your body and soul to this sweet vacation from cares and worries, and tune in to your true self. Includes Yoga: All Levels
$22
Chandra/Jo Sgammato serves as the General Manager of the New York Integral Yoga Institute, where she has worked in a variety of capacities since 1999, and is also the founder of IYI's Yoga At School™ program. Chandra is certified to teach Integral Yoga Beginning and Intermediate Levels as well as Therapeutic Yoga with Cheri Clampett and Arturo Peal. A former book publishing executive and author, she has done extensive research on the inspiring history of Sri Swami Satchidananda and Integral Yoga.
Laksmi Scalise, RYT 500, began a Yoga practice more than 40 years ago. She is involved with the healing arts as a sound healer, gong master, Reiki master, dowser, and astrologer. Laksmi studies under and assists Grand Gong Master Don Conreaux. She is a chakra-balancing practitioner at the Integral Yoga Wellness Spa.
Also with Chandra/Jo Sgammato and Laksmi Scalise: