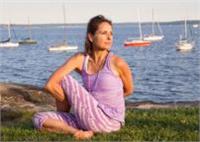 Yin Yoga for Lower Back, Hips, and IT Band: A Targeted Practice

with Sydney (Santoshi) MacInnis

Thursday, January 31 • 7:00–9:00 p.m.

Modernization brought furniture and, with it, large segments of time spent in sitting on furniture. Those factors contribute to a fixing of connective tissues in the lower body where the hips store and hold old emotions. In this workshop Santoshi will lead you through a sequence of long-held passive poses that are designed to stress those tissues. This stressing brings new and healthy sensations to the targeted tissues. Students can expect a feeling of ease and freshness following this workshop.

Recommended for experienced Yin Yoga students with a minimum of six months of practice.

Includes Yoga: Experienced Beginners and Intermediate/Advanced Students

$27
Sydney (Santoshi) MacInnis has made mothering her foundation, nurturing four children, the environment, and healthy living. She is passionate about food as the root to healing our planet and ourselves. Yin Yoga captured her head and heart, and it is through her own experience of failed cosmetic surgery and the gifts of Yoga for healing the wound that Santoshi invites others to share the benefits that come when one heals. She is a certified Integral Yoga and Raja Yoga instructor and has trained with the Yin masters Paul Grilley, Sarah Powers, Biff Mitoeffer, and Corina Benner.
Also with Sydney (Santoshi) MacInnis: