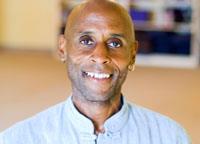 Saturday, May 27 • 1:30–3:30 p.m.
This integrative workshop will cover some the most prevalent issues in women's health. The goal is to establish functional health strategies using evidence-based nutrition, diet, and herbs. We will discuss hormonal health and stability before and after menopause. We'll look at breast health, addressing fibrocystic breast disease and the prevention of breast cancer. We will also focus on uterine fibroids and the prevention of ovarian and uterine cancer, explore postmenopausal heart disease, and much more. Bring your questions, and bring your concerns.
$25
Manu Dawson
, C.Y.N.Th., a leading exponent of natural living and holistic healing, has trained in clinical nutrition, homeopathy, and herbology and is the manager and nutrition consultant of the Integral Yoga Natural Apothecary.
www.integralyoganaturalfoods.com
Also with Manu Dawson, C.Y.N.Th.: