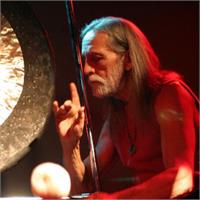 Saturday, December 21 • 7:30–9:30 p.m.
Continuing a beloved holiday season tradition, Grand Gong Master Don Conreaux returns here to IYI for our annual winter solstice gong bath. As the peaceful, devotional tones of the gongs ring through the Lotus Room, your mind, body, and spirit will vibrate and glow with vitality and a sense of relaxation. As darkness turns to light, as winter unfolds, renew your life's purpose, and set a course for peace and joy.
"When a living tone is successfully produced, the tone experience is felt within the heart. If the Self is active within the heart of the tone producer, the Self within the tone can then become fully active."
$30
Don Conreaux, formerly known as Baba Don and Guru Jagat, was one of the five original Kundalini Yoga Teachers designated by Yogi Bhajan in 1969. Don also studied the gong writings of Dane Rudhyar. He established the Nanak Dwara Ashram Teacher Training, which ran from 1970 to1976 in Phoenix, Arizona. His very first teacher, when he was a teenager in 1952, was Paramahansa Yogananda. Don Conreaux received his Kriya initiation in 1953 and has spent decades teaching, traveling, and sharing the depth and beauty of sacred gongs.
Also with Grand Gong Master Don Conreaux and Associates: