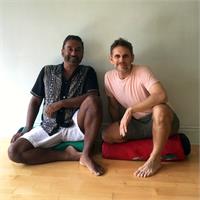 Sunday, October 27 • 2:30–4:30 p.m.
Join the Yoga teachers Tim Groen and Nirmal Chandraratna for a 120-minute musical Yoga class. Enjoy a vinyasa-style class led by Tim, a Jivamukti Yoga and advanced-level Integral Yoga teacher, while Nirmal, a new IY teacher and a musician and kirtanist, leads the opening chants and provides meditative live music (with harmonium, cello, and vocals) throughout the class, which will help you turn inward as you practice. In Vinyasa Yoga the attention and breath provide the linking mechanism, and breath helps make actions more conscious. The class concludes with a blissful, 30-minute Yoga Nidra session with music.
Includes Yoga: Intermediate/Advanced Students
$30
Tim Groen, RYT 500, is a certified Integral Yoga instructor and certified Jivamukti Yoga teacher. Born in Amsterdam, he is now a New Yorker who received his first Yoga teacher certification in India, where he loves to spend as much time as he can. Tim has taught in the United States, Amsterdam, and India; his classes and workshops reflect his training in both vinyasa and classical Yoga styles.
Nirmal Chandraratna is a certified Integral Yoga instructor, Kirtan artist, and composer with a passion for nurturing connection—to spirit, to community, and to one's deeper self—through music.