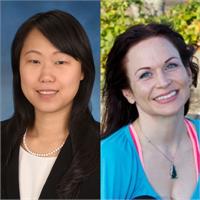 Saturday, February 29 • 2:30–4:00 p.m.
Yoga is much more than poses. Get a glimpse of the potential mental benefits of a non-physical Yoga practice, and learn how to bring these techniques into your life. Principles like withdrawal of the senses, the observing of thoughts, and other deeper teachings will be explained and practiced. No Yoga or meditation experience is required.
$27
Amy Cho RYT 200, discovered the Integral Yoga teachings through the Living Yoga Training program at Satchidananda Ashram‒Yogaville. Since then she has incorporated the lessons learned in her work and personal life and has experienced the transformational ability of Hatha Yoga, pranayama, meditation, and Raja Yoga. She is an Integral teacher certified for Levels I and II. She has furthered her teacher training for Yin Yoga with Corina Benner and Chair Yoga with Michael Hutkins.
Rev. Lila Lucy Nelson is a certified Integral Yoga teacher (Level I & II, Stress Management, Gentle & Chair), an Interfaith/Interspiritual Minister, and a Wellness & Life Coach. For many years she has been practicing Yoga and is now experiencing an even deeper love for the practice through teaching others and by exploring the Teachings of Swami Satchidananda. She is passionate about Integral Yoga's wholeness approach and its entire life system. It is her purpose to serve as an interspiritual mediator, to co-create space for transformation and celebration. "Peace starts within." She also holds various certifications in mind-body healing modalities including in whole-food plant-based (WFPB) nutrition and Mindfulness-based Eating Awareness training (MB-EAT). She is an Emotional Freedom Technique Practitioner (EFT-Level 1 & 2), YogaDance teacher and a certified Positive Psychology Practitioner. She feels blessed to be part of this community and honored to be an IYI teacher.