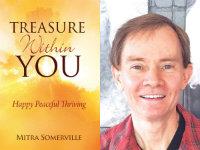 Treasure Within You: Lecture and Book Signing

with Mitra Somerville, RYT 500

Saturday, February 24 • 2:30–4:00 p.m.

You have a treasure within you that is always there. It is your inner peace, love, and joy. It is your intuition and creativity. Mitra will share with you, from his new book, time-tested methods that will help you to connect more deeply with your treasure within.

FREE
Mitra Somerville, RYT 500, is an Integral Yoga teacher, teacher trainer, workshop leader, and self-published author. He has been teaching in Australia and the United States since 1984 and is the author of the book Treasure Within You and the companion CD Treasure Within You Guided Meditation and Exercises.
Also with Mitra Somerville, RYT 500: