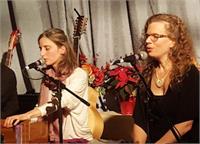 Transformational Breathwork with Live Music: A Rejuvenating Sound Experience

with Radharani and CC Treadway

Saturday, April 27 • 4:30–6:00 p.m.

Join Radharani and song-mate CC Treadway for the profound practice of Transformational Breathwork, accompanied by a soothing sound bath of ethereal harmonies.

Transformational Breathwork is a simple but powerful reclining practice that quickly brings about states of clarity, expansion, and the release of painful cellular memory. A single breathwork session can bring about deep emotional transformation, profound peace, and an awakened sense of joy.

Radharani's Album Release Concert follows the workshop.

Snacks available for those who attend both events.

$27
Radharani is an internationally recognized producer and vocalist who has shared a stage with some of today's best-known sacred music artists. Radharani has trained in rebirthing breathwork under the guidance of its founder, Leonard Orr. She is also a vocal coach and teacher of kundalini, naada yoga, and Vagyoga. She lived primarily in India for over a decade.