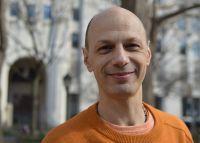 Transcending Illusion According to Vedanta: Understanding Maya

with Prem Sadasivananda

Thursday, September 27 • 7:00–9:00 p.m.

The earliest seers who have realized the truth have explained the cosmic process as the work of maya, the inscrutable power of the Supreme Spirit. Maya manifests individually as well as cosmically. It is the very force that keeps us from knowing our true self. The talk will offer many insightful views on what maya is and what spiritual aspirants should do to rise above it.

$27
Prem Sadasivananda, a scholar of Vedantic philosophy, Hindu scripture, and Sanskrit, is well known for his lively and humorous talks, his accessible teaching style, and his unique ability to bring the ancient Yogic scriptures and texts to life in the modern world. Prem began his spiritual journey as a sannyasin (monk) for 24 years in the Sivananda organization. Prem is a direct and long-term disciple of Swami Vishnudevananda.