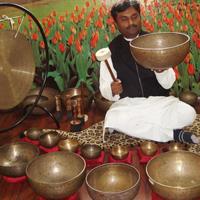 Tibetan Bowls Sound Healing Training: Powerful Ancient Healing Techniques: 3-Day Level 2 Course

with Master Satya Brat

Friday–Sunday, September 8–10 • 10:00 a.m.–6:00 p.m.

This advanced-level workshop is based on thousands of years of ancient Vedic and Tibetan sound healing science. Students will learn some of the most powerful ancient healing techniques for treating several critical physical, mental, and emotional disorders, using a holistic healing approach. Meditators and Yoga practitioners, spiritual seekers, energy healers, music therapists, sound healers, and medical professionals will gain a deep understanding of the growing field of sound healing.

Prerequisite: Tibetan Bowl Sound Healing Training Level I

$599
Master Satya Brat, the founder of International Academy of Sound Healing, received training from world-renowned sound healing experts and gurus. He has traveled across the globe participating in seminars and workshops. In the past decade, Master Satya has been a pioneer in taking the sound healing concept global. He is the only teacher in the world offering regular seminars in the United States, Canada, Europe, Asia, and India, with tremendous success and recognition.
Master Satya's passion for healing was ingrained from an early age as scholars specializing in Vedic sciences were regularly invited to his home by his family. He had a deep interest in Yoga and alternative medicine as a child. He received a degree in science from Scottish Church College, University of Calcutta, and pursued his interests in healing using his scientific knowledge.
He has studied extensively in the field of energy healing for the past several years; in addition to his mastery in sound healing, he is a certified clinical hypnotherapist and a Reiki, Yoga, and meditation practitioner.
www.iash.us
Also with Master Satya Brat :