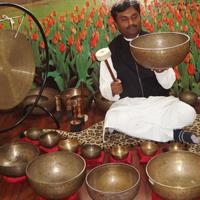 Tibetan Bowls Sound Healing Training: The Ultimate Medicine for Body, Mind and Spirit: 2-Day Level 1 Course

with Master Satya Brat

Saturday–Sunday, July 15–16 • 10:00 a.m.–6:00 p.m.

Integral Yoga Institute is proud to partner with the

International Academy of Sound Healing

and its founder, Master Satya Brat, to offer Tibetan Bowls Sound Healing Training. This low-cost therapy without negative side effects can be learned by anyone interested in the art and science of maintaining good health and promoting healing.

With this training, curious seekers, health care professionals, bodyworkers, and Yoga teachers will gain the knowledge, skills, and expertise necessary for providing sound healing to your clients, family, and friends, as well as experience the many benefits of the power of sound for yourself.

Widely accepted by scientists, doctors, the pharmaceuticals industry, and healers across the globe, this ancient yet cutting-edge modality can help people with a wide range of physical, emotional, psychological, and medical ailments, including high blood pressure, diabetes, heart problems, insomnia, substance abuse, headaches, lower back pain, and arthritis. Mental and emotional issues like anxiety, depression, and difficult relationships also respond to the vibrations of the bowls.

The sounds of Tibetan singing bowls make you calmer and give you a higher level of energy. They help you sleep. Healing sound vibrations can dissolve physical, mental, and emotional blockages and allow you to overcome daily stress, fear, and depression. With regular treatments, most people experience a greater zest for life and an increase in creativity.

$399
Master Satya Brat, the founder of International Academy of Sound Healing, received training from world-renowned sound healing experts and gurus. He has traveled across the globe participating in seminars and workshops. In the past decade, Master Satya has been a pioneer in taking the sound healing concept global. He is the only teacher in the world offering regular seminars in the United States, Canada, Europe, Asia, and India, with tremendous success and recognition.
Master Satya's passion for healing was ingrained from an early age as scholars specializing in Vedic sciences were regularly invited to his home by his family. He had a deep interest in Yoga and alternative medicine as a child. He received a degree in science from Scottish Church College, University of Calcutta, and pursued his interests in healing using his scientific knowledge.
He has studied extensively in the field of energy healing for the past several years; in addition to his mastery in sound healing, he is a certified clinical hypnotherapist and a Reiki, Yoga, and meditation practitioner.
www.iash.us
Also with Master Satya Brat :