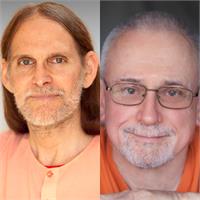 Saturday, May 25 • 5:30–7:00 p.m.
The beloved Integral Yoga monks Swamis Asokananda, Chidananda, and Jyotirmayananda bring together their considerable experiences to offer insights gleaned from decades on the spiritual path. Bring your questions and an open mind and heart to what promises to be an enjoyable and enlightening evening with two direct and senior disciples of IYI's founder, Sri Swami Satchidananda.
By donation
Swami Asokananda
, a monk since 1973, is one of Integral Yoga's foremost teachers, known for his warmth, intelligence, and good humor. His teaching comes out of his own practice and experience, since he has absorbed the wisdom of his guru, Sri Swami Satchidananda, since the age of 19. While he enjoys sharing the practical wisdom of the Yogic philosophy (especially that of the great Indian scripture the Bhagavad Gita), he also loves his practice of Hatha Yoga and is one of our primary instructors for Intermediate and Advanced Hatha Yoga Teacher Training. In the past, he has served as the president of Satchidananda Ashram–Yogaville® and Integral Yoga® International; he is currently the President of the New York Integral Yoga Institute.
Swami Chidananda is a monastic and a longtime disciple of Sri Swami Satchidananda and has managed the finances for Integral Yoga's ashrams, institutes, and teaching centers for decades. He teaches Hatha Yoga and leads study groups on Yoga and Buddhist teachings and philosophy. Swami Chidananda also conducts spiritual pilgrimages to India and Nepal.
Swami Jyotirmayananda has served at Yogaville since 1983 in various capacities. She has designed and installed displays in the LOTUS All Faiths Hall and Display Hall, Guru Bhavan and Sivananda Hall, and Saints and Sages Gallery at Satchidananda Ashram–Yogaville. Swami JyotiMa was an Ashram vice president of resident services from 1997 to 2001 and currently serves on the Spiritual Life Board and Ashram Leadership Team as vice president of spiritual development and as a core member of the LOTUS Center for World Faiths (LCWF). Before coming to Yogaville, Jyotirmayanandaji spent ten years in the preschool and after-school care fields, where she began her children's book Sparkling Together, published by Integral Yoga in 2004