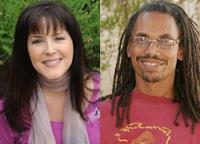 Sunday, September 22 • 4:00–6:00 p.m.
Come together with graduates of the Therapeutic Yoga Trainings for an evening of self care and shared ideas. Learn from other teachers and healers in the field and share your own personal and professional journey. Light refreshments will be served. Cheri and Arturo look forward to seeing you! Please pre-register with reception.
FREE
Cheri Clampett
, C-IAYT, E-RYT 500, is a certified yoga therapist with over 20 years of teaching experience. She is the founder and director of the Therapeutic Yoga Training Program. She has also co-led the Integrative Yoga Therapy Teacher Training and has presented Therapeutic Yoga at the White Lotus Foundation Teacher Training, Beth Israel Medical Center, and the Rusk Institute at NYU Medical Center. Cheri currently teaches yoga at the Cancer Center of Santa Barbara, where she founded the yoga program for cancer patients in 1999, and the Santa Barbara Yoga Center. As a certified Yoga Therapist, Cheri focuses on the healing aspects of yoga: freeing the body, breath and flow of energy through practicing with awareness, compassion, and love. Cheri is the co-author of the
Therapeutic Yoga Kit
, published in January 2009 by Inner Traditions.
http://www.therapeuticyoga.com
Arturo Peal,
MA, (TCM), LMP is an anatomy and physiology (A&P) instructor and a Certified Yoga Therapist. He co-leads the Therapeutic Yoga Training Program. He Holds a Masters Degree in Chinese Medicine, practices Craniosacral Therapy and has been involved in the "alternative" health-care field for more than 30 years. Arturo teaches A&P for Yoga teacher trainings and studios, for body workers, and for other movement specialists. His weekly class in Therapeutic Yoga serves students who are unable to do a traditional Vinyasa practice. He integrates his expertise in Anatomy, Kinesiology, Chinese Medicine, and the healing processes to present a multidimensional understanding of the human body.
http://www.bodystudies.com