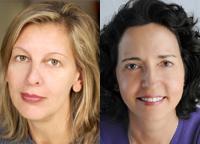 Wednesday, March 21 • 9:30–11:00 a.m.
Therapeutic Yoga is a practice for those recovering from, or living with, injury or illness. It combines Restorative Yoga (supported postures), Gentle Yoga, pranayama (breath work), hands-on healing, and guided meditation. Therapeutic Yoga is an excellent choice for those who need something gentle yet effective for bringing the body into balance and reducing stress. It allows you to step away from the busy-ness of the outside world and access the deeper wisdom that resides within you.
People with chronic conditions should contact the instructor at jyothilarsonyoga@gmail.com prior to the first class. The seniors' fee for this program is $12 per session, available through Reception.

Includes Yoga: New Beginners and All Levels
Please visit www.iyta.org/credentials for more information on our yoga therapy credentials
$20
Jyothi Larson, RYT 500, C-IAYT, has been practicing Yoga for more than 30 years and has taught for 22 years. Jyothi specializes in Prenatal, Postnatal, Restorative, and Therapeutic Yoga. She teaches at IYI and throughout the city. Jyothi's book Yoga Mom, Buddha Baby (Bantam) was published in 2002.
Deborah Madhavi Matza, R.N., C-IAYT, is a registered nurse and has been a certified Integral Yoga instructor for 15 years. She is also a certified Therapeutic Yoga instructor and has experience teaching Yoga to people with cardiac and pulmonary diseases in a hospital setting.
Also with Jyothi Larson and Deb Madhavi Matza: