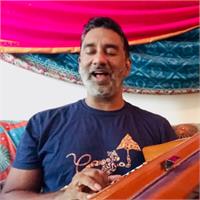 The Sounds of Transformation: A Musical Meditation on Change

with Nirmal Chandraratna

Saturday, September 28 • 7:30–9:30 p.m.

When we come together to sing Kirtan, we are offered a unique opportunity to plant the seeds of transformation. Ecstatic chanting when practiced in a community is a powerful vehicle to help our intentions take flight. We'll begin the evening by collectively offering up our hopes for the world, our loved ones, and ourselves and then co-create a program of heart-opening melodies drawing on Sanskrit mantra and rich vocal harmonies supported by the dynamic instrumental textures of the harmonium, cello, guitar, and drums. Together we can raise the energies of gratitude and appreciation to help bring about the blessings we would wish bestowed upon the world.

$20 in advance/$25 day of event
Nirmal Chandraratna is a certified Integral Yoga instructor, Kirtan artist, and composer with a passion for nurturing connection—to spirit, to community, and to one's deeper self—through music.