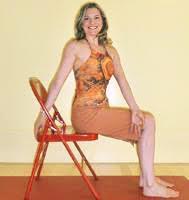 Wednesday, February 26 • 12:00–1:00 p.m.
Increase your vitality and better your balance and coordination with a unique class that combines Chair Yoga, Qigong, and Tai Chi Easy™ walking. Seated and standing Yoga poses strengthen and stretch the body, gentle and flowing Qigong movements enhance your life force energy, and Tai Chi walking improves balance. These practices are a moving meditation that calms the nervous system, focuses the mind, and is accessible to all bodies and ages. Students should come barefoot or wear indoor slippers or socks with traction. $15 for everyone. Discounts do not apply. Includes Yoga: New Beginners and All Levels
$15 per session
Melissa "Mati" Elstein
, RYT, Esq., is a certified Yoga, ballet, and Pilates mat teacher, a Tai Chi Easy™/Qigong facilitator, and a Reiki practitioner. Melissa completed teacher trainings at Integral Yoga, Rasa Yoga, the Breathing Project, Yoga Works, and Alvin Ailey Extension. She has taught Yoga and Qigong classes at Integral Yoga, the Open Center, Upper West Side Yoga and Wellness, DOROT for Seniors, Gilda's Club for cancer patients, Visions for the Blind, and the Omega Institute.
www.goodenergymovementandwellness.com