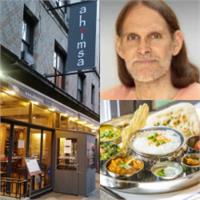 Swami's NEW Favorite Indian Restaurant: Benefit Dinner for the New York IYI Building Fund

with Swami Asokananda

Monday, April 3 • 6:00–8:00 p.m.




Dear Beloved Integral Yoga New York Community,

I invite you to join me at my NEW favorite Indian restaurant for A Dinner to Benefit the New York Integral Yoga Institute.




A few years ago, I thought I had found my all-time favorite restaurant, and we held a wonderful fund-raising dinner there. However, we recently catered a meal for our staff from a restaurant named Ahimsa. I was so delighted with the meal that I have been to the restaurant several times since then. It is a kosher, vegan, gluten-free South Indian restaurant right here in Greenwich Village. I don't mean to be fickle, but now I have my new favorite restaurant, which I want to share with you. (Plus, variety is the spice of life!)

The purpose of this fund-raiser is to help us continue to maintain and improve our beloved 13th Street building, which has served us so well since 1970. Our focus right now is to upgrade the fourth-floor room where we meditate in the evenings and have Scripture Study. Design services are being generously donated, so your contributions will go directly to improve flooring, lighting, furnishings, our library, and more.

We are asking you to give a $108 tax-deductible donation for this evening. We will show our appreciation for your generosity by giving you three free Yoga classes.




Ahimsa is located at 210 Thompson Street, between Bleecker and West Third streets. They serve a beautiful and bountiful buffet!




I hope that you will be able to join us and be a part of this special evening. You are welcome to invite your friends. Space is limited, though, so I suggest that you preregister soon.

OM shanti and love,

Swami Asokananda

$108
Swami Asokananda, a monk since 1973, is one of Integral Yoga's foremost teachers, known for his warmth, intelligence, and good humor. His teaching comes out of his own practice and experience, since he has absorbed the wisdom of his guru, Sri Swami Satchidananda, since the age of 19. While he enjoys sharing the practical wisdom of the Yogic philosophy (especially that of the great Indian scripture the Bhagavad Gita), he also loves his practice of Hatha Yoga and is one of our primary instructors for Intermediate and Advanced Hatha Yoga Teacher Training. In the past, he has served as the president of Satchidananda Ashram–Yogaville® and Integral Yoga® International; he is currently the President of the New York Integral Yoga Institute.
Also with Swami Asokananda: