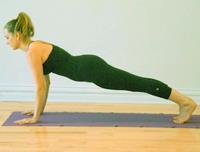 Monday, April 29 • 6:30–8:30 p.m.
Learn safe and effective ways to strengthen the core, especially the hard-to-reach lower abdominals. Strong abs make balancing poses easier and are the key to a graceful posture. In this workshop you will learn abdominal exercises that are alternatives to traditional crunches, thereby preventing any neck or upper-back tension. The workshop also includes back-strengthening poses, as well as a focus on standing balances. Enhance your Yoga practice with a strong center!
Includes Yoga: All Levels
$30
Melissa "Mati" Elstein
, RYT, Esq., is a certified Yoga, ballet, and Pilates mat teacher, a Tai Chi Easy™/Qigong facilitator, and a Reiki practitioner. Melissa completed teacher trainings at Integral Yoga, Rasa Yoga, the Breathing Project, Yoga Works, and Alvin Ailey Extension. She has taught Yoga and Qigong classes at Integral Yoga, the Open Center, Upper West Side Yoga and Wellness, DOROT for Seniors, Gilda's Club for cancer patients, Visions for the Blind, and the Omega Institute.
www.goodenergymovementandwellness.com
Also with Melissa "Mati" Elstein, RYT, Esq.: