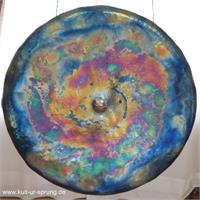 Spring Equinox Gong Bath: Refresh and Renew with Healing Vibrations

with Kozmic Shamans

Tuesday, March 20 • 7:30–9:30 p.m.

If you haven't yet experienced the sheer vibrational joy of a gong bath at Integral Yoga, give yourself that gift this spring. As nature awakens, revitalize your own energy and optimism as you lie on the floor of the Lotus Room at IYI and receive the soothing, bathing, healing vibrations of gongs and other sound instruments. On this day of equal darkness and light, find your own, exquisite balance. Presented by graduates of Grand Gong Master Don Conreaux's Gong Master Teacher Training held at IYI, this event will be one to remember.

$27
Kozmic Shamans are gong masters certified by Grand Gong Master Don Conreaux have studied and been accredited for 54 contact hours of instruction and mastery in several basic aspects of gong healing and holistic resonance. They continue to spread the rich vibrations and sounds of the gong in a variety of settings.