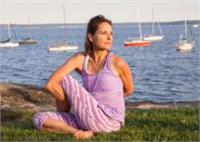 Spinal Bends and Twists Through Yin Yoga: Energize Your Spine

with Sydney (Santoshi) MacInnis

Tuesday, February 12 • 6:30–8:30 p.m.

The ability to move in your body easefully requires good spinal health. The spine is the center of your Yoga practice. Through the careful sequencing of long-held passive Yin poses and specific targeting of the spinal area, this practice brings energy and an awakening to the tissues of the spine. The resulting enlivened spinal sensations are transmitted from the spine to the entire body and mind.

Recommended for experienced Yin Yoga students with a minimum of six months of practice.

Includes Yoga: Experienced Beginners and Intermediate/Advanced Students

$27
Sydney (Santoshi) MacInnis has made mothering her foundation, nurturing four children, the environment, and healthy living. She is passionate about food as the root to healing our planet and ourselves. Yin Yoga captured her head and heart, and it is through her own experience of failed cosmetic surgery and the gifts of Yoga for healing the wound that Santoshi invites others to share the benefits that come when one heals. She is a certified Integral Yoga and Raja Yoga instructor and has trained with the Yin masters Paul Grilley, Sarah Powers, Biff Mitoeffer, and Corina Benner.
Also with Sydney (Santoshi) MacInnis: