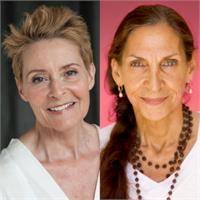 Tuesday, April 2 • 6:30–8:30 p.m.
Join two of IYI's senior teachers in a joyful, healing journey of sound healing with gongs, bowls, and your own voice through special Qigong chants from Nadiya's master teacher's lineage. As you lie down in savasana, you will be guided through healing visualizations accompanied by Laksmi's renowned sound work to heal body and soul while calming the mind and revitalizing the body's organ systems.
$30
Nadiya Nottingham
, RYT, has been a teacher at IYI for more than 20 years. She is an advanced Hatha Yogini, a certified Qigong teacher, and a Celtic priestess of Bridget, Ireland's triple goddess. Her meditation practice began 45 years ago in her native Ireland, where the sea and the land were her first teachers. Nadiya, a trained shamanic practitioner and medical Qigong healer, is in private practice in New York City and Duchess County. She teaches in the United States and internationally.
www.nadiyanottingham.net
Reverend Laksmi Scalise, IYM, RYT 500, is an Integral Yoga minister and teaches Intermediate and Advanced Hatha Yoga. In 1977 she began studying under Swami Bua Maharaj, whose students she taught whenever he traveled. She studies with Grand Gong Master Don Conreaux and is one of his senior teachers. She is also a Reiki master teacher, dowser, and astrologer. Using pendulums, crystals, and sound mantras, Laksmi performs shamanic chakra balancing and sound healing through the Integral Yoga Wellness Spa.