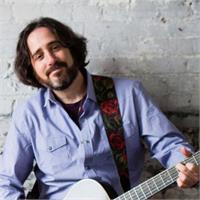 Saturday, December 7 • 7:30–9:30 p.m.
Join us for a spirited evening of healing call-and-response chanting and inspirational music with the renowned chant artist and sacred musician David Newman (Durga Das). David's music embodies a heartfelt devotional mysticism with an adventurous musicality and poetic intimacy. It is a celebration of Spirit, diving deep into Kirtan chanting and spreading conscious lyrics with a message of hope, peace, and universal love. David and his band will guide us on a joy-filled and uplifting journey into bliss.
$20 in advance/$25 day of event
David Newman is a renowned sacred mantra artist, singer-songwriter, author, and inspirational teacher. Also known as Durga Das, he has released numerous acclaimed world-music albums, including the number one iTunes World Music best-seller Love Is Awake, on which he collaborated with members of Paul Simon's band. In addition to his mastery of the ancient Yogic mantra practice known as Kirtan, David, with his adventurous musicality and poetic intimacy as a vocalist and songwriter, brings a unique and exhilarating experience to his devoted fan base around the world.
Along with his musical gifts, David is a celebrated teacher and guide for many on the spiritual path and the author of the number one Amazon best-selling book The Timebound Traveler. His message of peace and universal love also permeates his charitable endeavors, including the Stay Strong Project, producing music to benefit the environmental and humanitarian efforts of Global Green USA, and his partnership with the Call and Response Foundation, bringing mantra and healing music to such institutions as prisons, psychiatric centers, and homeless shelters.
David continues to express his passion to serve in creative and groundbreaking ways and sees his life's work as simply "spreading the love"!
"At David Newman's concert, the event's volume knob seemed to go from low-level joy to full-on bliss, the kind you feel after climbing a gorgeous mountain or ending a tough run on a strong sprint."
—The Washington Post
"David Newman is reminiscent of George Harrison, Bob Dylan, and Paul Simon when they are in soul mode." —LA Yoga Magazine "David Newman has created a world with his music. It's meditative, positive, and very powerful, bringing people together and also to themselves."
—Lisa Loeb, Grammy-winning singer-songwriter
"Though David Newman has a deep sense of tradition in his music, there is also something thoughtful, poetic, personal, and almost romantic about his songs."
—Yoga Journal
www.davidnewmanmusic.com