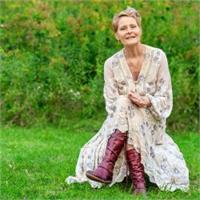 Tuesday, October 1 • 6:30–9:30 p.m.
By transforming old wounds to strengthen our female warrior selves, we become community healers. When unexplored, past events can leave a scar or an emotional hurt that you may have difficulty addressing. Through a meditation and a forgiveness ritual circle, we'll take steps toward a new beginning, a fresh perspective on the woman within.
$50
Nadiya Nottingham
, RYT, has been a teacher at IYI for more than 20 years. She is an advanced Hatha Yogini, a certified Qigong teacher, and a Celtic priestess of Bridget, Ireland's triple goddess. Her meditation practice began 45 years ago in her native Ireland, where the sea and the land were her first teachers. Nadiya, a trained shamanic practitioner and medical Qigong healer, is in private practice in New York City and Duchess County. She teaches in the United States and internationally.
www.nadiyanottingham.net
Jeanny Tsai is a healer, musician, and renowned documentary filmmaker. She brings her beautiful voice in song and her guitar playing to help us raise our hearts and voices in prayer and love. www.jeannytsaiphotography.com