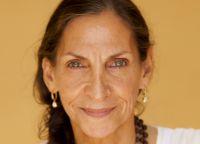 Thursday, October 10 • 7:00–9:00 p.m.
Tap into your heart and intuition, using your mind, hands, guided meditation, and tuning forks to send prana to your chakras. You will learn about the energies of each chakra and techniques to increase and strengthen these energies. The focus will be on raising our energy from the bottom three chakras, which are survival chakras, to the heart and the top three chakras—intuition, discrimination, and our higher self. We'll do a few sun salutations for all levels. Includes Yoga: All Levels
$30
Reverend Laksmi Scalise, IYM, RYT 500, is an Integral Yoga minister and teaches Intermediate and Advanced Hatha Yoga. In 1977 she began studying under Swami Bua Maharaj, whose students she taught whenever he traveled. She studies with Grand Gong Master Don Conreaux and is one of his senior teachers. She is also a Reiki master teacher, dowser, and astrologer. Using pendulums, crystals, and sound mantras, Laksmi performs shamanic chakra balancing and sound healing through the Integral Yoga Wellness Spa.
Also with Rev. Laksmi Scalise, RYT 500, IYM: