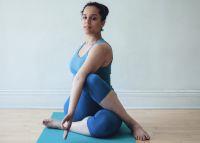 Self-Love: Explore the Potential to Love Yourself Deeply

with Jennifer Gibson

Sunday, September 22 • 11:00 a.m.–1:00 p.m.

Come explore the relationship you have with self-love. Through Gentle, Yin, and Restorative Yoga poses, you will learn to open the heart chakra to release what no longer serves you and be ready to receive that which does. Writing exercises will help you create a plan to further your self-care and also highlight the love you have for yourself. All of this will be accompanied by affirmations of love as we nurture ourselves in a gentle way and feel the love reflected inward. Includes Yoga: All Levels

$34
Jennifer Gibson, is a certified Yoga instructor through the Integral Yoga Institute of New York City. Through her exploration of Yoga, she has discovered tools that have helped her to maintain a peaceful balance in life. With knowledge gained from a Bachelors of Fine Arts in Dance Performance from New World School of the Arts, University of Florida, Jennifer integrates movement and a deep understanding of the body into her classes. Her sessions are infused with love, compassion, and an exploration of self through breath, awareness, and an emphasis on staying present. Passionate in her belief that Yoga should be accessible to everyone, Jennifer offers chair Yoga to seniors in both Manhattan and Brooklyn. She also works privately with women in the Hasidic Jewish community. She has developed a Yoga for Anxiety workshop based on personal experience which she has presented around the country. Jennifer is certified in Beginner and Intermediate Yoga; Prenatal, Postnatal, and Yoga for Labor and Delivery; Accessible Yoga, Yin Yoga, and Therapeutic Yoga.