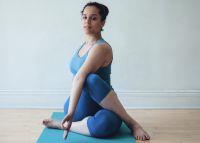 Self-Love: Explore the Potential to Love Yourself Deeply

with Jennifer Gibson

Sunday, August 18 • 2:30–4:30 p.m.

Come explore the relationship you have with self-love. Through Gentle, Yin, and Restorative Yoga poses, you will learn to open the heart chakra to release what no longer serves you and be ready to receive that which does. Writing exercises will help you create a plan to further your self-care and also highlight the love you have for yourself. All of this will be accompanied by affirmations of love as we nurture ourselves in a gentle way and feel the love reflected inward. Includes Yoga: All Levels

$34
Jennifer Gibson, a certified Yoga instructor for the past 12 years, has been challenged with overcoming her own anxiety and, through her exploration of Yoga, has discovered tools for finding a peaceful balance in her everyday life. She is thrilled to share the practices of Yoga to help relieve the anxiety of others.
Also with Jennifer Gibson: