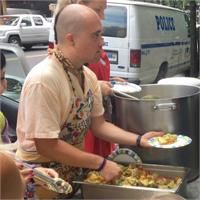 Saturday Night Social: A Discussion on Seva (Karma Yoga) and Your Practice

with Community Committee and Adi Tarantino

Saturday, May 22 • 6:45–8:00 p.m.
Let us all dedicate our lives for the sake of the entire humanity. With every minute, every breath, every atom of our bodies we should repeat this mantra: "dedication, dedication, giving, giving, loving, loving."
—Sri Swami Satchidananda
The core definition of Integral Yoga is "An easeful body, a peaceful mind, a useful life, and ultimately, the realization of one's true Self."
Hatha, or asana practice allows for an easeful body and meditation edges us toward a peaceful mind. So how about the penultimate step, a useful life? We will gather to explore what role seva, or selfless service (Karma Yoga) plays in our spiritual practice.
We will also be honored with a visit from Adi Purusha Das, an enormously inspirational light who has dedicated his life to service, who has made a real difference in the lives of scores of our neighbors. Come hear him speak, learn about his beautiful work, and be in the presence of the true definition of Karma Yogi As stated in Patanjali's Yoga sutras, Karma Yoga is "the path of selfless service. By engaging in one's duties without attachment to the fruits (or results) of the action, one becomes a pure channel of love and service."
Come learn the benefits of serving and explore additional ways we can join in Seva.
For specific questions or more information about the Community Committee, please contact Community@iyiny.org.
This is an online workshop. You'll need to download
Zoom
to attend. Please see your purchase confirmation for the Zoom link.
By donation
The New York Integral Yoga Community Committee is a group dedicated to creating opportunities for students to connect and cultivate community support.
Now in his 60's,
Adi Purusha Das Tarantino
has been a monk in the Hare Krishna movement and a practicing Bhakti for over four decades. Though widely known for distributing warm, healthful vegetarian meals on the Lower East Side via his Interfaith Community Services faithfully three days a week for over twenty years, it is not his only endeavor. Through food distribution, the Retreat Guest rooms Ministry, (which help fund the food distribution,) or production and distribution of religious literature, Adi remains clear and constant in his message: "the express purpose" of all of his endeavors is to "inspire others in their faith and in their loving service to God."
https://www.untotheleastofthybrethren.org/