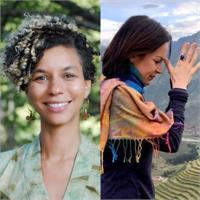 Saturday, March 20 • 7:00–8:30 p.m.
Join Shankari Goldstein and Rev. Lila Lucy Nelson for this rich discussion on how you can use the ethics and teachings of Yoga to create social change and activism within your community. They will discuss pathways to healing which include advocacy and courageous ideals. We will dive into some of the following questions:
What does it look like to examine one's own culture and your own inner spirit and shadows?
How do the Niyama's and Yama's make space for equality and action?
How do we begin to build bridges and move into reformation and reconciliation with communities that have been harmed?
What is the role and future for Contemplative Practices and Yogis in this profound moment?
This is an online workshop. You'll need to download
Zoom
to attend. Please see your purchase confirmation for the Zoom link.
By donation
Shankari Goldstein
is a Program Manager at the Mind & Life Institute. She is an avid social justice activist, Accessible Yoga Ambassador, 500 hour Integral Yoga Instructor, and Certified in Yoga of Recovery. Shankari continues to find ways to help propel the voices of BIPOC (Black, Indigenous, People of Color) forward and share their embodied practices. She is a Regenerative Farmer and works as a food justice advocate throughout the mid atlantic region. You can follow more of her work at
www.stateofunionyoga.com
and
www.shankarinow.com
Rev. Lílā Lucy Nelson, E-RYT500, MS, is an ordained Interfaith Minister, Interspiritual Counselor and a teacher trainer at Integral Yoga Institute. She has worked in Human and Community Services spaces and has fostered profound changes with the lenses of organizational psychology. She is also a certified teacher in Meditation, Raja Yoga, a Positive Psychology Coach, and EFT practitioner. She facilitates Satsang, teaches workshops and courses, and conducts speaking engagements as a Stress Management Educator. Lila nurtures discovery, spiritual direction, transition, and deep listening.