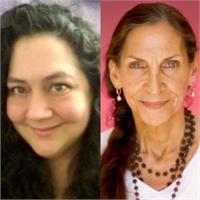 Wednesday, May 27 • 7:00–8:30 p.m.
This is an online workshop. You'll need to
download Zoom
to attend. Please see your purchase confirmation for the Zoom link.
Ease your body and balance your nervous system by awakening to your senses. Rejuvenate yourself through a Restorative Yoga sequence, focusing on each of the seven chakras, to increase pranic flow. The Restorative Yoga teacher Taravati guides a practice to support a physical release. The sound healer and Reiki master Laksmi creates a sound bath with her collection of Tibetan singing bowls to tune in to the resonating frequency of each chakra for a blissfully meditative state. Includes Yoga: All Levels
$25
Taravati Tania Turcinovic RN, BSN, has been a part of the Integral Yoga community for over 20 years. She has worked in the food store, apothecary, as a manager in the Institute, and served as a principal teacher trainer for many years. She has been an active teacher since her initial certification in 1998. Taravati has continued her studies at IYI by training in Hatha II, Prenatal Yoga, and Gentle. She has also studied Thai Yoga with Kam Thye Chow and Therapeutic Yoga with Cheri Clampett. As a nurse, she has worked in various hospitals throughout NYC. Taravati believes that the practice of yoga is accessible to all people regardless of physical condition or cultural background.
Rev. Laksmi Scalise, RYT 500, IYM, began a Yoga practice more than 40 years ago. She is involved with the healing arts as a sound healer, gong master, Reiki master, dowser, and astrologer. Laksmi studies under and assists Grand Gong Master Don Conreaux. She is a chakra-balancing practitioner at the Integral Yoga Wellness Spa.