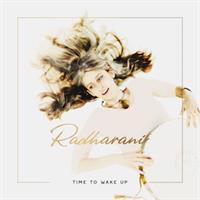 Radharani Album Release Concert: A Special Evening of Kirtan

with Radharani

Saturday, April 27 • 7:00–9:00 p.m.

Join Radharani and band as we play music from her second album, "Time to Wake Up." Radharani's haunting voice and ethereal harmonies take listeners into inner realms with a contemporary mixture of chants and healing melodies.

Come for the concert, or begin your evening with a relaxing practice of Transformational Breathwork accompanied by the harmonious chanting of Radharani and CC Treadway.

"If you're a fan of the sweet sounds of Snatam Kaur, you'll fall in love with Radharani." – Yoga Journal

Snacks available for those who attend both events.

$20 in advance/$25 day of event
Radharani has shared a stage with some of today's best-known sacred music artists, at venues such as Omega Ecstatic Chant, Ahimsa Festival and Bhakti Fest. Having lived primarily in India for over a decade, she guides pilgrimages, Breathwork and Voice Activation workshops, and performs around the country. Her debut album, "Just One Drop" received global acclaim.