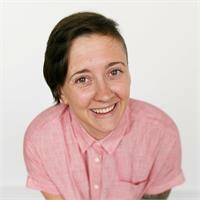 Prenatal Teachers Continuing Education: Gender-Expansive Prenatal and Postpartum Yoga: Considerations for Trans, Non-binary, Gender Non-Conforming + Students

with Jenna Brown

Saturday, November 21 • 4:00–5:30 p.m.

This is an online workshop. You'll need to

download Zoom

to attend. Please see your registration confirmation for the Zoom link. The workshop takes place from 4:00 to 5:30p.m. Eastern Time.

This workshop for prenatal and postpartum Yoga teachers will provide an understanding of concepts and terminology related to gender and sexuality, common barriers to care for trans and gender-expansive pregnant and postpartum people, and how prenatal and postpartum Yoga instructors can be more affirming of the diverse identities and experiences of people moving through the childbearing year(s). There will be space to ask clarifying questions, examine assumptions and biases, and explore and practice the integration of gender-expansive teaching.

$15 in advance / $20 day of
Jenna Brown (they/he) is a transmasculine non-binary queer-and-trans-centered full-spectrum doula, educator, and movement facilitator currently living and practicing in Austin, Texas. In addition to working with clients one-on-one through their family-building and reproductive health experiences, they work as an instructor for birthing advocacy doula trainings, and create content and resources for queer people and families, including "Queer + Pregnant: A Pregnancy Journal" and a functional movement/breath/rest video series called "Breathe Easy", as well as community peer-support spaces, and practical tools for navigating healthcare systems. Towards their ultimate goal of a more understanding and affirming world for queer and trans people, they are also a guest lecturer, advocate, and consultant in a variety of training programs, institutions, and professional settings.