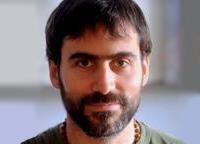 Saturday, April 15 • 5:30–6:30 p.m.
Passover is a major Jewish spring festival; it commemorates the liberation of the Israelites from Egyptian slavery. The holiday lasts for eight days, starting from the full moon in the Hebrew month of Nisan. At this Satsang, Rev. Sam Rudra Swartz will look at the similarities between the Passover holiday and the concept of the jivamuktan, a liberated soul, from the Yogic tradition while offering some of the customs traditionally observed during the Passover holiday. All are welcome.
By donation
Rev. Sam Rudra Swartz, IYM, has been a devotee of Swami Satchidananda since 2001. A 2004 Graduate of the All-Faiths Seminary in New York he received ordination from Rabbi Joseph Gelberman an Interfaith Minister. He has performed wedding ceremonies around the United States, lead interfaith services, and Jewish services at the Actors' Temple in New York as well as at other synagogues and gatherings. Most recently he lived and served at Satchidananda Ashram Yogaville Virginia as a Karma Yogi as well as participating in religious offerings.
Also with Rev. Sam Rudra Swartz, IYM: