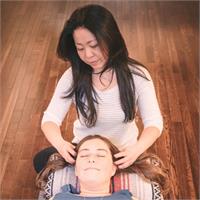 Partner Thai Yoga Bodywork: Bring Loving-Kindness to Any Relationship

with Masami

Saturday, May 18 • 2:30–4:30 p.m.

Cost: $54 for two people

Two people can come together and learn a brief and easy Thai Yoga massage they can easily practice at home. A 10- to 15-minute session, shared regularly, is very therapeutic for any relationship to deepen or heal. Masami, a certified Lotus Palm Thai Bodywork and Integral Yoga Wellness Spa practitioner, says, "Touching is a more powerful communication tool than words. Most important, Thai Yoga massage's core element, Metta Loving-Kindness, is given more attention when you practice together." All relationships can be challenging at times. It is really refreshing to re-appreciate the people in your life.

$54 for two people
Masami believes that yoga is a personal journey with one's own inner truth, to discover one's own inner light. She emphasizes practicing asanas (yoga postures) to balance, open and cleanse the body and is inspired by Ayurveda and Thai Yoga massage. She moves a class through each asana with increasing awareness of body and breath, helping each individual to learn to listen and respond to what their body is telling them. Her classes are designed to provide fun, safe, and effective instruction for individuals at all levels. Her intention is to help each one explore their authentic self and improve their well-being.