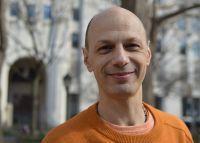 Nurturing Sensitivity in Modern Times: The Essence of Spiritual Awakening

with Prem Sadasivananda

Wednesday, February 6 • 7:00–9:00 p.m.

We generally think that being sensitive means to be overly open and vulnerable. Is being sensitive really desirable? Sensitivity is the essence of spiritual awakening. It is the art of cultivation of one of the most beautiful and delicate flowers of your heart. Come and discover the true meaning and how to cultivate healthy and deep sensitivity. The talk will change the way you view your relationship with life.

$27
Prem Sadasivananda, a scholar of Vedantic philosophy, Hindu scripture, and Sanskrit, is well known for his lively and humorous talks, his accessible teaching style, and his unique ability to bring the ancient Yogic scriptures and texts to life in the modern world. Prem began his spiritual journey as a sannyasin (monk) for 24 years in the Sivananda organization. Prem is a direct and long-term disciple of Swami Vishnudevananda.
Also with Prem Sadasivananda: