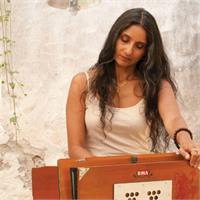 Nina Rao: An Evening of Sacred Chant

with Nina Rao

Saturday, June 8 • 7:30–9:30 p.m.

Call-and-response chanting of the Divine names from the Indian tradition will awaken your spirit. As with many practices, we chant to slow down our minds and open our hearts through repetition, coming back to the practice as we let the inevitable thoughts pass through our minds like clouds in the sky. As is true of any practice, it probably won't solve all your problems in one night, but it will offer you a chance to develop your own regular practice if it resonates with you. Nina's chants are available on her CD, Antarayaami—Knower of All Hearts.
Nina Rao learned traditional chants (bhajans) from her grandfather in a village in South India when she was nine years old. The chants stayed with her quietly until she rediscovered chanting with Krishna Das in New York in 1996. For many years Nina has been Krishna Das's business manager and assistant, often touring with him playing cymbals and singing. In 2007 she recorded the track "Nina Chalisa" on Krishna Das's CD Flow of Grace, and in January 2013 she released her debut album, Antarayaami—Knower of All Hearts. Nina regularly leads Kirtan and chanting of the Hanuman Chalisa, and she sings for Yoga classes in her hometown, Brooklyn, New York, and beyond.