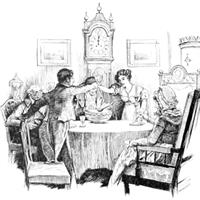 Tuesday, December 31 • 7:30–11:55 p.m.
For decades, New Year's Eve at Integral Yoga has been a celebration of life and hope with great food, wonderful chanting and music, and the beautiful sense of togetherness that is the hallmark of IYI. We invite our greater community of students and seekers to join in the fun. You'll find a healthful and joyous New Year's party that will set the tone for the year to come. Includes a vegetarian dinner by Andalamma, beloved chef of divine Indian food. Space is limited. Preregistration is required. Doors close promptly at 9:30 p.m. It won't be possible to enter after that. This event ends at 12:30 a.m. Alcohol free event.
Schedule of activities
7:30 p.m. Socializing: Meeting someone new
8:00 p.m. Dinner
9:15 p.m. Kirtan
9:45 p.m. Dance Party DJ'd by Terrence Pompey
10:30 p.m. New Year's message and reflections
11:00 p.m. Gong Bath
11:45 p.m. Mantras for world peace
11:55 p.m. Meditation
12:05 a.m. "Champagne" to Auld Lang Syne
12:10 a.m. Closing chants
$40
Rev. Sam Rudra Swartz, IYM, has been a devotee of Swami Satchidananda since 2001. A 2004 Graduate of the All-Faiths Seminary in New York he received ordination from Rabbi Joseph Gelberman an Interfaith Minister. He has performed wedding ceremonies around the United States, lead interfaith services, and Jewish services at the Actors' Temple in New York as well as at other synagogues and gatherings. Most recently he lived and served at Satchidananda Ashram Yogaville Virginia as a Karma Yogi as well as participating in religious offerings.
Laksmi Scalise, RYT 500, began a Yoga practice more than 40 years ago. She is involved with the healing arts as a sound healer, gong master, Reiki master, dowser, and astrologer. Laksmi studies under and assists Grand Gong Master Don Conreaux. She is a chakra-balancing practitioner at the Integral Yoga Wellness Spa.