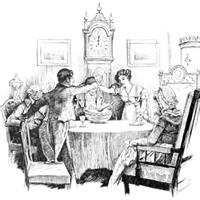 New Year's Eve at Integral Yoga: Celebrate with Sangha

with Swami Asokananda

Monday, December 31 • 7:30–11:55 p.m.

For decades, New Year's Eve at Integral Yoga has been a celebration of life and hope with great food, wonderful chanting and music, and the beautiful sense of togetherness that is the hallmark of IYI. We invite our greater community of students and seekers to join in the fun. You'll find a healthful and joyous New Year's party that will set the tone for the year to come.

Includes a vegetarian dinner. Space is limited. Preregistration is required. Doors close promptly at 9:30 p.m. It won't be possible to enter after that. This event ends at 12:30 a.m.

Schedule of activities

7:30 p.m. Socializing: Meeting someone new
8:00 p.m. Dinner
9:15 p.m. Kirtan
9:45 p.m. Entertainment offering by Rudra
10:00 p.m. Dancing led by Swami Asokananda
11:00 p.m. New Year's message and reflections

11:45 p.m. Mantras for world peace
11:55 p.m. Meditation
12:05 a.m. "Champagne" to Auld Lang Syne
12:10 a.m. Closing chants

$40
Swami Asokananda, a monk since 1973, is one of Integral Yoga's foremost teachers, known for his warmth, intelligence, and good humor. His teaching comes out of his own practice and experience, since he has absorbed the wisdom of his guru, Sri Swami Satchidananda, since the age of 19. While he enjoys sharing the practical wisdom of the Yogic philosophy (especially that of the great Indian scripture the Bhagavad Gita), he also loves his practice of Hatha Yoga and is one of our primary instructors for Intermediate and Advanced Hatha Yoga Teacher Training. In the past, he has served as the president of Satchidananda Ashram–Yogaville® and Integral Yoga® International; he is currently the President of the New York Integral Yoga Institute.
Phil Goldberg, author of American Veda, interviews Swami Asokananda on spiritmatterstalk.com podcast. Listen on SoundCloud.

Also with Swami Asokananda: