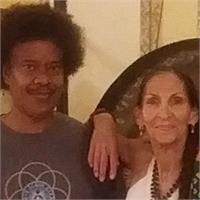 Tuesday, May 11 • 7:00–9:00 p.m.
Sound bath meditations are a holistic way to achieve a deep state of relaxation and interconnectedness. During a sound bath meditation we effortlessly align ourselves into a state of quantum coherence where all aspects of our selves (mind, body, and spirit) are in resonance with each other which can provide relief from stress and anxiety. This also brings a calmness of mind, which allows the body's self-healing mechanism to operate effortlessly and provides unfiltered access to our own inner guidance. Rev. Laksmi and Michael Jay have studied and taught with Gong Master Don Conreaux over the last ten years.
This is an in-person workshop.
$54
Reverend Laksmi Scalise, IYM, RYT 500, is an Integral Yoga minister and teaches Intermediate and Advanced Hatha Yoga. In 1977 she began studying under Swami Bua Maharaj, whose students she taught whenever he traveled. She studies with Grand Gong Master Don Conreaux and is one of his senior teachers. She is also a Reiki master teacher, dowser, and astrologer. Using pendulums, crystals, and sound mantras, Laksmi performs shamanic chakra balancing and sound healing through the Integral Yoga Wellness Spa.
Michael Jay
is a health coach who has studied Shiatsu with Ohashi, tuning forks in the Acutonics system, and other healing modalities, including EFT and Reiki. He has been studying and teaching with Grand Gong Master Don Conreaux in his New York workshops for the past four years and is the catalyst and founder of the multifaceted sound-based collective SVAHA (Sound Vision Alchemy for Harmonic Attunement).
Michaeljaysound.com
Also with Rev.Laksmi Scalise, RYT 500, and Michael Jay: