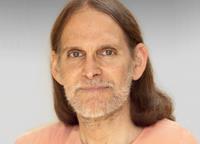 Meditation Without Frustration: Taking Your Meditation Practice to the Next Level

with Swami Asokananda

Monday, June 26 • 7:00–9:00 p.m.

Why make meditation stressful, one more difficult thing to do? Is there a more effective way to practice than trying to stop the thoughts? Can the practice help you to understand and deepen the connection to yourself? Can you keep your practice enjoyable and inspiring year in and year out? Swami Asokananda will introduce a simple, three-step approach to meditation that has kept his meditation interesting, meaningful, and rejuvenating for more than 45 years. For experienced practitioners.

$25
Swami Asokananda, a monk since 1973, is one of Integral Yoga's foremost teachers, known for his warmth, intelligence, and good humor. His teaching comes out of his own practice and experience, since he has absorbed the wisdom of his guru, Sri Swami Satchidananda, since the age of 19. While he enjoys sharing the practical wisdom of the Yogic philosophy (especially that of the great Indian scripture the Bhagavad Gita), he also loves his practice of Hatha Yoga and is one of our primary instructors for Intermediate and Advanced Hatha Yoga Teacher Training. In the past, he has served as the president of Satchidananda Ashram–Yogaville® and Integral Yoga® International; he is currently the President of the New York Integral Yoga Institute.
Also with Swami Asokananda: